With COVID-19 cases dropping by 50% since the start of 2022 (38 000 to 18 000), you might be asking yourself, what's next? Will the vaccine mandate still in full effect, will restrictions be lifted, will things go back to normal? According to the statistics, things should already be back to normal, but by looking at the government's actions in securing millions of extra doses of booster shots, it shows quite the opposite.
As of December 2020, Canada already had enough vaccines secured to protect a population almost 4 times its size. During December 2020, Justin Trudeau decided to make an additional purchase of 20 million doses to accelerate the vaccine calendar. However, the government decided to take it one step further to "protect its citizens" by doubling that order with Moderna to 40 million doses. Fast forward to January 2022, the government of Canada has made an agreement that guarantees access to 65 million doses of Pfizer's COVID-19 vaccine,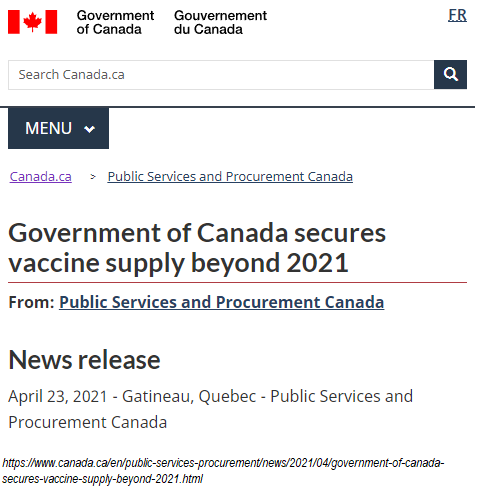 with access to 120 million more, if necessary. With 23.6 million (71.3%) Canadians fully vaccinated, why did the government secure millions of extra doses? If the government's plan is to keep rolling out boosters the numbers roughly convert to 6 doses per person! Keep in mind these vaccine purchases are strictly for the COVID-19 vaccine. The government is still in the process of rolling out vaccines specifically for Omicron. Buckle up your seat belts, it looks like we are in for quite the summer. As of January 20, 2022, there have been 90,265,540 vaccines distributed across the country. Ontario received the most at 20 million, Quebec with 13 million and BC and Alberta with roughly 6 million each.

As COVID-19 cases and deaths continue to decline leading into 2022, it's safe to say the "pandemic" is coming to an end. However, with the purchase of 65 million vaccines and 120 million on standby by the government, it looks like they have plans of their own to keep the pandemic going. As 70% of the Canadian population is already vaccinated, it seems like the government will be rolling out booster shots all year long. They've secured around 6 boosters for each citizen so far, not to account for the Omicron vaccine they plan on releasing in March 2022.